Nope. When you create a recurring transaction, the frequency of the recurrence can only be on dates going forward.

If you are doing a clean up and need the transaction to be entered multiple times before today's date, a workaround is to create the transaction as Unscheduled, and then from your Gear Icon - Recurring Transactions, just select Use (from the Edit Menu) as many times as you need it.

Once you are current, then set it to be scheduled automatically.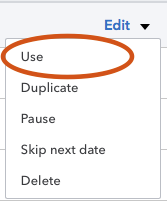 It isn't a perfect solution, but will still be faster than entering every transaction.

Updated: April2017